Home of La Maison by Deeper States
Orders Over Fifty Dollars Ship Free!
Ingredients: Purified Water, Olive oil,, Coconut oil, Safflower Oil Palm kernel oil, Sodium Hydroxide, Castor oil, some may have Cocoa, Essential or fragrance oils, should any allergies be present discontinue use.
Are you a handmade soap fanatic or know someone who is? Here is your chance to pamper yourself or a loved one all year round.
Soap of the Month Club members will receive two handmade bar of soap shipped directly to them each month. A variety of soaps will be sent, and shipping is included in the price of the club. Choose from the six month plan, or the full year. As a BONUS, with the first shipment of soap, we will include a free bar of Bastille pure olive oil soap.
Your one-year membership is only $144 for a full year of luxurious handmade soaps, with a 6 month trial period. You will only be billed for the first 6 months, after which your automatic renewal will happen yearly.
Watch the video and learn how soap is made
I made this video when I was pouring Tea Tree Oil Soap. This video will help you understand the process, as well as the ingredients that go into our handcrafted bars that cleans your skin while still being gentle to your face and body. I make sure I take my time with all my products and make sure they are done right as well as with love and care.
Owner of Deeper States Mind and Wellness.
Michael Almaraz
Why Is Homemade Soap So Much Better?
Commercial soaps, like Dove, Dial, Irish Spring, Caress, Lever 2000, or Ivory are available everywhere for very low prices. Some of them were marketed as deodorant soaps, and these could be especially drying to your skin. Soaps like these are better classified as detergents. You know, the stuff you use to wash your clothes and dishes. They can also include tons of preservatives, cheap synthetic fillers, and fragrances that can flare up allergies and sensitivities in some people.
The alternative? Using handmade soap, or soaps with pure ingredients. Not only are they gentler than those harsh detergent bars, but they are usually much more moisturizing, come in a variety of scents, and last much longer than the average drugstore bar. Below, I'll briefly discuss the reasons why these soaps are just all-around better than the commercial stuff.
Natural soaps are made in a time-honored fashion. It involves a very simple chemical reaction between oils (or fats) and lye (sodium hydroxide for bars). All soap is made with lye, but there is no lye in the finished product. The chemical reaction converts the lye/fat mixture to glycerin. The glycerin is a natural by-product and, as such, the relationship between the soap molecule and the glycerin means you have a cleanser with abundant, luxurious lather that cleans like nothing else. As a bonus, it does not strip your skin of its natural, protective oils.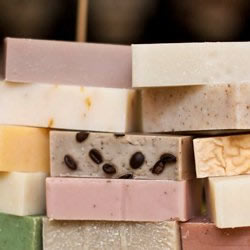 Commercially made soap usually contains detergents, fillers, chemicals, petroleum, high animal fat content (sodium tallowate) and irritants like SLS or. Commercially made soap tends to be less eco-friendly as well. While commercially manufactured soap usually costs less, the impact on your skin and the environment is shocking.
Natural handmade soaps are made with natural oils, have high glycerin content, are better for the environment with no detergents, phosphates, or sulfates, and are never tested on animals.
All our soaps are handcrafted by me right here in the United States of American; Long Beach Ca.
Thank you for your Order. Please keep Soaps and Suds of Purity in mind when you need it pure.
My personal best regards,
Michael Almaraz CHT, NLP, RP
www.deeperstate.com/demo 562-426-6884