This is the autobiography of certified hypnotherapist Michael Almaraz of Deeper States Hypnotherapy. If you have questions for Mr. Almaraz, you may contact him at 562-426-6884 or e-mail him at www.deeperstate.com/demo.
Hello, my Name is Michael Almaraz…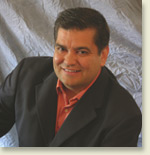 I was born in Sedona, Arizona, one of the most mystic and beautiful places in the world. In 1989, I moved to Los Angeles to work for Delta Airlines. In 1996, my mother, whom I was very close to all my life, transitioned. I waited for about two weeks before returning to work, thinking I was doing fine. I found that I had not really dealt with the grief of losing my mother. I was sleeping a lot and feeling very emotional. I was falling into severe depression. There was no one who really knew what I was feeling. My medical doctor gave me a plethora of anti-depressants. They would lose their effectiveness after a short time and he would have to increase the dose or change the medication only to see the same results. This went on for two years.
I finally went to the American Institute of Hypnotherapy (AIH) in Irvine, California for help. With the use of hypnosis and with the help of my doctor, I was able to get off all the medications and soon started feeling a drive for life again. Many aspects of my life had also started to change for the better. Hypnosis improved the quility of my life so much I decided to become a hypnotherapist myself so I could help others in the same way.
I took my hypnosis with AIH and got my certification with them as well with the International Hypnosis Federation (IHF). I started my practice in Long Beach California and two years later opened an additional office in Sherman Oaks.My offices have helped many people with a multitude of needs. In the last 10 years I have helped my clients overcome problems with alcoholism, smoking and other addictions, depression, anxiety, panic attacks and sexual dysfunction. I have also successfully helped my clients with pain reduction, fibromyalgia, weight loss, life coaching, I've helped them improve personal and professional relationships, and to manifesting more abundance in their lives. I also specialize in helping law students pass the California bar exam.
Let us help you unleash the power of your subconscious mind and start creating your life by design!
Best Regards,
Michael Almaraz CCHT
Certified Hypnotherapist